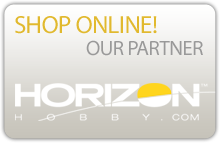 Holiday Store Hours:
Monday thru Friday 9:30 - 6:00
Saturday 9:00 - 5:00
Sunday 10:00 - 4:00
Note: We Close at 3PM Christmas & New
Years Eve !
What's New:
• Free Specktrum Receiver with the Purchase of Select Spektrum Transmitters... Visit store for details.
• If you would like to learn all the "How To" on using the new Spektrum AS3X programable receivers visit this link for YouTube videos produced by Horizon Hobbies: LINK
• Indoor flying every Wednesday... 7-9 PM .Village School Gym in Gorham. More info: Visit "SMRCHA.NET"
• Large selection of Cyclone Heli Blades now available at the store... "Only the best". Visit store for details.
Like Us: